Author: Natalie Hoidal, UMN Extension educator, local foods and vegetable crops
This week's update includes a review of melon ripeness, talking to customers about blemished and otherwise ugly produce, some new insects to keep an eye on, some old insects that just keep persisting, and some notes about prioritizing water use based on crop maturity.

Problems in the field / things to note this week



Time to review melon harvesting guidelines
Melon season is here, so it's a great time to review harvesting guidelines. I often find melons at the farmers market that are unripe, or over-ripe. It can be hard to know the exact right time to harvest, and the best time to do so is actually very dependent on what varieties you're growing. Consider reviewing this article from last year for guidance.

While gardeners should wait until cantaloupe slip easily from the vine, farmers might be better off harvesting a bit before this stage since the melons will keep ripening. Most other melons will never reach the full slip phase. Image: Natalie Hoidal
Ugly vegetables explained to your customers



Last year we debuted some fact sheets that farmers can share with their customers to explain why their produce doesn't look perfect. In the next few weeks, we are entering into the period of potatoes with hollow heart, curvy or nibbled-on cucumbers, and wormy corn, so I thought now would be a good time to resurface them. Check out our fact sheets about ugly potatoes, ugly cukes and zukes, and ugly sweet corn. You are welcome to print them and share them with your customers if you're having any of these problems.
Crop updates



Cucurbits: Cantaloupes and musk melons are starting to ripen reliably across the state, and watermelons are quickly catching up. Cucumber beetle pressure seems to be ramping up for many growers. I visited one field this week where scattered melons were suffering from bacterial wilt (transmitted by cucumber beetle), and I've seen damage to young winter squash fruit and flowers. Review cucumber beetle management strategies here, but remember to be mindful of pollinators, which are very necessary for cucurbit fruit production! In addition to cucumber beetle damage, I'm seeing quite a bit of aborted fruit, likely related to poor pollination and heat. Here's an overview of fruiting and flowering issues in cucurbits for anyone who wants to take a deeper dive.
Cucumber beetles on a developing winter squash. Photo: Natalie Hoidal
Cucumber beetle feeding on a squash flower. Photo: Natalie Hoidal
Tomatoes and peppers: Tomatoes and peppers are generally looking great, with few disease problems. I've had a few questions this week about cracking. In some cases this is due to overwatering, but more common, it's a result of insufficient moisture followed by a flush of water. If you're irrigating every other day and seeing quite a bit of cracking, consider shifting to every day. This is especially important in very hot conditions and warm nighttime temperatures, as soil moisture can evaporate quickly. I posted an article last week about calculating how long to water in a high tunnel; I'll post it here again for folks who missed it. Finally, I've been hearing about abnormally high tomato hornworm pressure in Western Wisconsin and along the St. Croix river valley.

Garlic: It seems like most people have now harvested their garlic. Read more about curing options on our postharvest handling page.
Onions: I saw my first onion thrips of the year this week in Todd County. Pull back the leaves of your onions to check for thrips. Depending on the species and life stage, they can be a spectrum of colors from light yellowish tan to a darker brown. You can read more about them in this article from our 2021 winter planning series. While some peoples' onions look great, I've heard from a few people that their onions have been growing more slowly than usual this year. This does not surprise me; onions have very shallow roots, and are thus quite sensitive to dry weather.
Onion thrip nymphs. Photo: Whitney Cranshaw, Colorado State University, Bugwood.org
Onion thrips. Photo: Natalie Hoidal





Cole crops: People are planting their final successions of broccoli, cauliflower, and cabbage this week (those of you in Northern MN have likely already finished planting). We continue to get a lot more calls about flea beetles than we typically get around this time of year.



Potatoes:

We're nearing the end of the critical irrigation period for most potatoes. This period encompasses the 6 weeks or so after flowering, and it's the time when potatoes have the highest demand for water. Growers should start to see vines dying off in the next couple of weeks, at which point you can slowly begin to reduce your irrigation.



Sweet corn: (This section was written with help from Charlie Rohwer). Sweet corn is very sensitive to dought during pollination and tip fill. As drought conditions expand across the state, sweet corn growers may experience "zippered" sweet corn, or corn with kernels missing. If you have access to irrigation for your sweet corn, the period from pollination to tip fill is a time to prioritize watering. Corn earworm trap counts have remained fairly low this week. In all of the trap sites around the state, they were below the threshold of 5 adults per trap.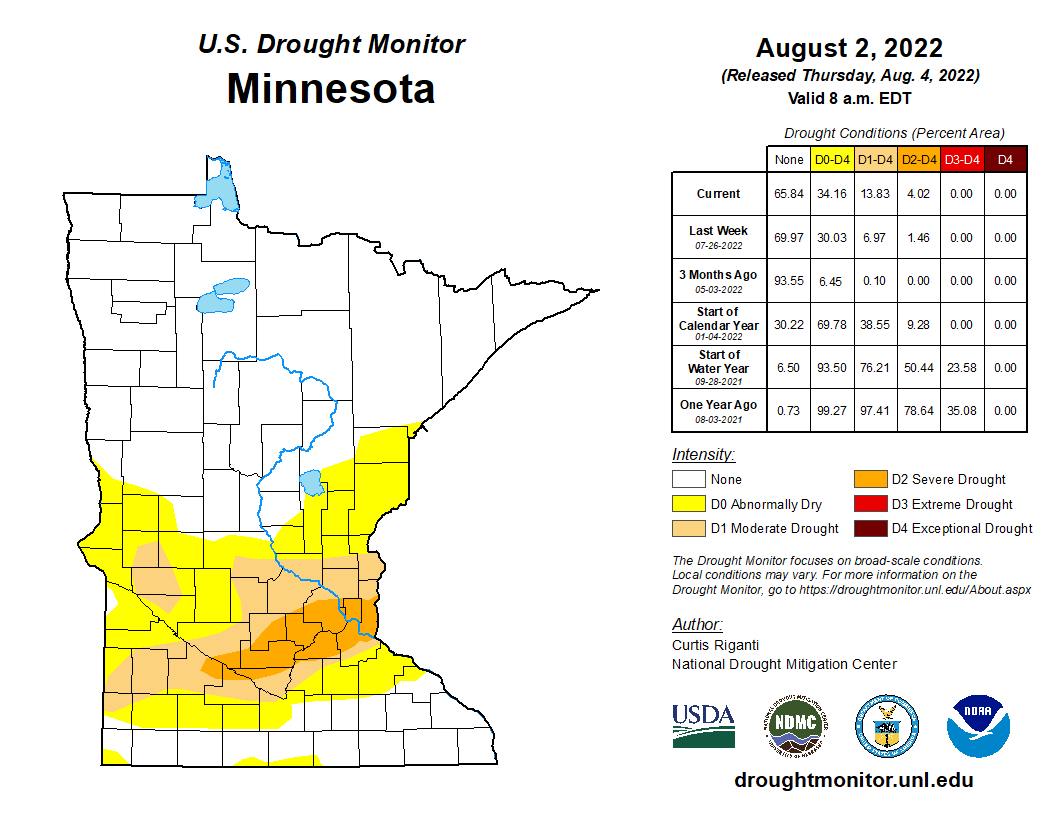 US drought monitor map for Minnesota, 8/2/22

Connect with the fruit & vegetable team
If you're seeing interesting things in your fields, need help identifying problems, or just want to share photos, we'd love to hear from you! Growers can reach out directly to me any time at hoida016@umn.edu, and you can submit questions and diagnostic help below.